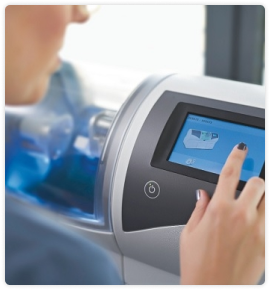 CEREC is a commonly used term in dentistry and it stands for Chairside Economical Restoration of Esthetic Ceramic and it uses CAD/CAM (computer-aided design and computer-aided manufacturing) to fabricate dental restorations.
Cerec is suitable for manufacturing individual crowns, extensive dental fillings (inlay, onlay) and small bridges consisting of three teeth. At the same time, it can be combined with three-dimensional diagnostic imaging for manufacturing high precision surgical splints for perfect placement of implants according to the prosthetic restoration planned ahead.
Cerec technology is an alternative solution to conventional prosthetic restorations. The digitally manufactured restorations are the newest way of designing and producing dental ceramic restorations without the interference of dental laboratories. More specifically, if a tooth has extensive tooth destruction or loss and needs a crown or an inlay/onlay, this can be built in one day.
After the necessary tooth preparation, the images are scanned with the camera and finally, a high-tech milling machine manufactures the restoration. The final prosthetic restoration can be ready in a short time, without the need to wait on the dental chair. You can wait in our comfortable waiting room, with access to WiFi internet and TV programs in order to unwind and reset your waiting time. This process is ideal for people with a heavy daily schedule and high demands on both quality and aesthetic of the final restoration, or even for the people who are uncomfortable having impression materials in their mouth.