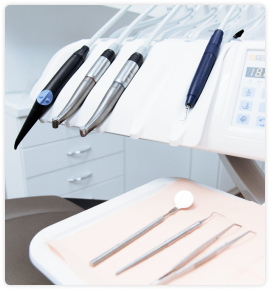 At Adamantio Dental Centre, our aim is to offer our patients a positive and stress- free experience. Our dental professionals listen to your needs and desires and offer a range of solutions to meet them such as all standard dental treatments, including teeth cleaning, teeth whitening, fillings, root canal treatments, extractions and prosthetic restorations, fixed or removable, in case of loss of teeth, in a friendly environment. 
Through modern, caring and ethical dentistry, our team of dental surgeonshas the potential to address the most complex cases of the dental practice, since our team is staffed with dentists specialized in periodontology, oral and maxillofacial surgery, dental implantology and orthodontics. We also have a modern radiology centre for panoramic and Cone Beam Computed Tomography (CBCT) x-rays. 
Our dental care facilities are where you come to seek advice and receive treatment to maintain the oral health.