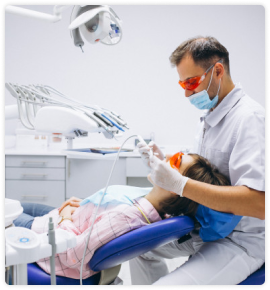 Maxillofacial surgery is a purely surgical speciality of dentistry that deals with problems of the jaws, face and mouth. The more straight-forward procedures include surgery and treatment of disorders of the teeth and their supporting hard and soft tissues. For example, a dentist may refer a patient with impacted wisdom teeth to an Oral and Maxillofacial surgeon.
In the spectrum of diseases and disorders of the oral and maxillofacial region, the oral and maxillofacial surgeon treats:
Simple and complex surgical extractions, focusing on impacted wisdom teeth

Preparation of the jaws for implants placement with bone grafting

Partial and full restorations of edentulous jaws with implants

Treatment of deformities of the jaws/face

Treatment of trauma of the jaws/face

Treatment of articulation problems (occlusion) of the jaws

Treatment of benign and malignant tumours of the mouth

Odontogenic infections
The majority of our patients in Adamantio are referred to the oral and maxillofacial surgeon for extraction of impacted wisdom teeth and biopsies of hyperplasia or malformation in the oral cavity. For more complex maxillofacial surgery procedures, patients are referred for treatment in a hospital facility. Throughout the procedure, your dental practitioner will be there to help and guide you.