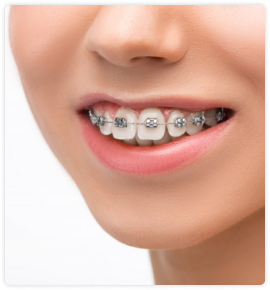 Also known as teeth straightening, orthodontics helps to align crooked or crowded teeth to improve their function and facial aesthetics.
Orthodontic treatment can involve having braces fitted onto your teeth to gradually straighten them into the desired position, or wearing aligners, a thin, clear, flexible plastic mouthguard that you can remove at your convenience. 
Orthodontics is a common treatment among children and teenagers, but it is suitable for anybody who wants to regain confidence in their smile. There are many different treatment plans that you can follow, depending on your needs and your aesthetic requirements. 
This specific treatment is carried out by an orthodontist, who specialises in straightening teeth. Our orthodontists at Adamantio Dental Center have undergone specific orthodontic training, so you can feel comfortable and confident that your smile is in safe hands.